For up to minute updates "Like" us on Facebook.
Washington County Kansas Sheriff's Office – Washington, KS
It is the mission of the Washington County Sheriff Office to provide services with integrity and dedication, to preserve life, to enforce the law, and to work in partnership with the community to enhance the quality of life in Washington County.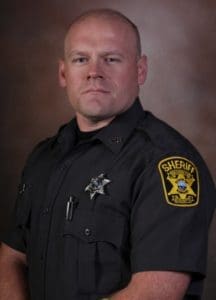 It is the goal of the Washington County Sheriff's Office to perform Law Enforcement work in the protection of life and property through crime prevention and the enforcement of the laws and ordinances.
The Law Enforcement Center is located in Washington. The Law Enforcement Center was built in 1996; it contains the Washington County Sheriff's Office and the Washington County Communications Office and the Washington County Jail.
The Washington County Sheriffs Office provides 24 hour coverage and is responsible for Law Enforcement for the whole county which is 900 square miles.
We have eight certified law enforcement officers including the Sheriff and Under Sheriff. The officers are trained extensively in all aspects of law enforcement. Officers are also called upon to handle a large scope of diverse matters.
To become a Law Enforcement Officer:
You must have a high School diploma or equivalent must be a U.S. citizen must be at least 21 years of age must have a valid drivers license have no:
felony convictions
misdemeanors
felony domestic violence convictions
DUI convictions
diversions within three years.
You must successfully complete a physical, a thorough background investigation, psychological evaluation and drug screening. Officers must obtain basic certification at the Kansas Law Enforcement Training Center within one year of employment.

Kansas law enforcement officers must satisfactorily complete a minimum of 400 hours of basic law enforcement training to attain their law enforcement certification. The basic training is a 14-week, 560-hour course.

Additionally, to maintain their law enforcement certification each officer must obtain 40-hours of continuing education annually in subjects related directly to law enforcement.